ROBERT AND LINDSAY YOUNG • Lawyers and Philanthropists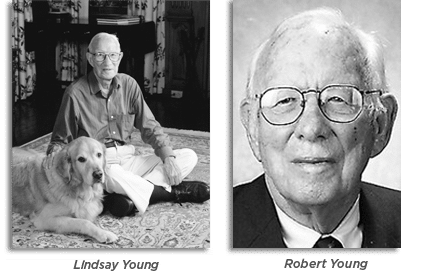 Robert and Lindsay Young


The legacy of twin brothers, Lindsay and Robert Young, continues to influence the areas of practice, spirit of community, and commitment to unyielding high-standards that exist today at Young, Williams & Theiss. The brothers' rich history within the Knoxville community and their keen ability to deftly counsel businesses, so that they, in turn, could support and grow our community, remain foundational hallmarks of today's firm which continues to proudly bear their name.

Excerpt from The University of Tennessee Alumnus article, "100 Distinguished Alumni"
Lawyer. Coal company executive. Avid hiker. Dog lover.
That was Lindsay Young, described by the Knoxville News Sentinel as "a generous philanthropist who generally stayed out of the limelight." Young died in 2006 at 93. He entered UT Knoxville in 1930, earned a bachelor's degree in two years and a law degree in 1935. In 1945, Young became the legal advisor and director of Garland Coal Company. Young and his twin, Robert, eventually became partners in the McCampbell and Young firm—now the Young, Williams & Theiss Law Firm.
Young loved the Great Smoky Mountains and was a founding board member of the Friends of Great Smoky Mountains National Park. The Tennessee Legislature honored him upon his death. In 1994, Young founded the Aslan Foundation, which focuses on enhancing the beauty, assets and history of the Knoxville area.
Many places on the UT Knoxville campus and in the community bear Young's name—all lasting tributes to his impact, including the Young-Williams Animal Center (along with fellow attorney Mark Williams) and the Lindsay Young Downtown YMCA. In 1980, Young gave $1 million—the largest cash gift the university had received at that point—to create an endowment supporting 10 annual professorships.
In 1989, Young gave $1 million to UT Libraries, which allowed the libraries to purchase several special collections, including the papers of James Agee and first editions of Charles Dickens' novels. The Lindsay Young Auditorium in Hodges Library is named in his honor. UT officials presented Young with UT's Volunteer of the Year Award in 2002, saying, "To the countless individuals you have touched through your generosity and vision over the decades, you have brought hope, healing, opportunity and enjoyment."